The Great Escape (film)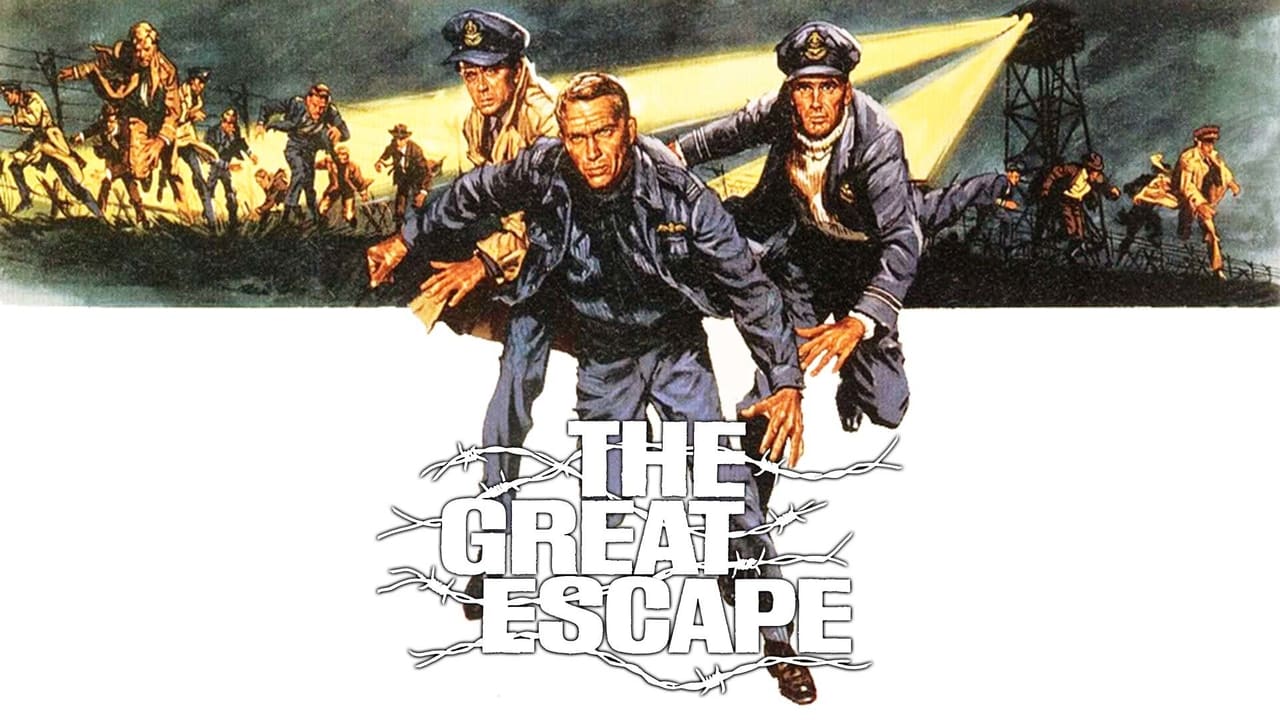 The Great Escape is a 1963 American epic war film starring Steve McQueen, James Garner, and Richard Attenborough and featuring James Donald, Charles Bronson, Donald Pleasence, James Coburn, and Hannes Messemer. It was filmed in Panavision.
The film is based on Paul Brickhill's 1950 nonfiction book of the same name, a firsthand account of the mass escape by British Commonwealth prisoners of war from German POW camp Stalag Luft III in Sagan (now Żagań, Poland), in the province of Lower Silesia, Nazi Germany. The film was based on real events but deviated significantly from the historical record, depicting a heavily fictionalized version of the escape, including numerous compromises—such as featuring Americans among the escapees—in order to boost its commercial appeal.
It was made by The Mirisch Company, released by United Artists, and produced and directed by John Sturges. The film had its Royal World Premiere at the Odeon Leicester Square in London's West End on 20 June 1963.[2] The film became very popular and emerged as one of the highest-grossing films of the year, winning McQueen the award for Best Actor at the Moscow International Film Festival,[3] and is now considered a classic.[4] The Great Escape is also notable for its motorcycle chase scene and famous jump scene, which is considered one of the best stunts ever performed.
Plot
In 1943, having expended enormous resources on recapturing escaped Allied POWs, the Nazi German armed forces move the most determined to a new, high-security prisoner-of-war camp supervised by Luftwaffe Colonel von Luger.
Prisoners try to escape almost immediately; USAAF Captain Virgil Hilts and Scottish RAF Flying Officer Archibald "Archie" Ives are both imprisoned in isolation in the "cooler" (solitary confinement block[8]).
The prisoners' escape committee mount an audacious plan to tunnel out of the camp and break out 250 men, not only to escape, but so that as many troops and resources as possible will be wasted on finding POWs. Led by RAF Squadron Leader Roger Bartlett ("Big X") and senior British officer Group Captain Ramsey, the men organise into teams. American Flight Lieutenant Robert Hendley is "the scrounger" and blackmailer, who finds anything from a camera to identity cards. Australian Flying Officer Louis Sedgwick, "the manufacturer", makes tools like picks and bellows for pumping air into the tunnels. Flight Lieutenants Danny Velinski and William "Willie" Dickes are "the tunnel kings" in charge of digging. Flight Lieutenant Andrew MacDonald, Bartlett's second-in-command, gathers and provides intelligence. Lieutenant Commander Eric Ashley-Pitt of the Royal Navy devises a method of dispersing soil from the tunnels under the guards' noses. Flight Lieutenant Griffith is "the tailor", creating civilian outfits from scavenged cloth. Forgery is handled by Flight Lieutenant Colin Blythe. The prisoners work on three tunnels simultaneously, calling them "Tom", "Dick", and "Harry". The work noise is covered by the prisoner choir led by Flt. Lt. Dennis Cavendish, the surveyor.
Hilts and Ives escape again, in vain. When Hilts is released from the cooler, Bartlett asks him to escape, scout the area immediately surrounding the camp and allow himself to be recaptured; Hilts refuses. Meanwhile, Hendley forms a friendship with German guard Werner, exploiting it to obtain travel documents and other needed items. Soon, Bartlett orders "Dick" and "Harry" sealed off: "Tom" is closest to completion. The prisoners are enjoying a 4th of July celebration arranged by the Americans when the guards discover "Tom". Despondent, Ives frantically climbs the barbed wire fence and is shot dead.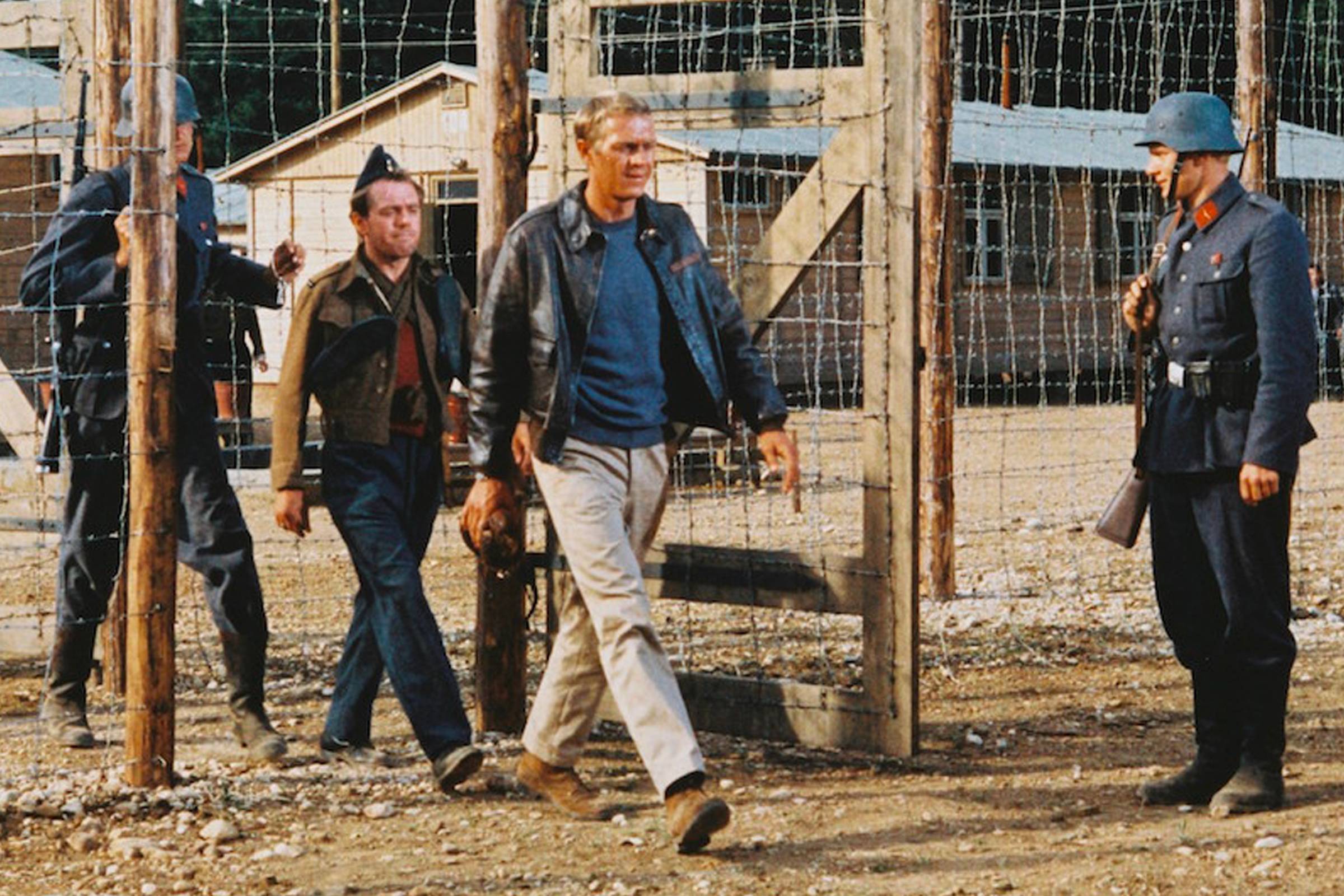 The prisoners switch their efforts to "Harry", and Hilts agrees to provide reconnaissance from outside the camp. The information he brings back is used to create maps to guide the escapees. Blythe discovers that he is going blind due to progressive myopia;[9] Hendley takes it upon himself to be Blythe's guide in the escape. The last part of the tunnel is completed on the scheduled night, but it proves to be twenty feet (about 6 m) short of the woods due to faulty surveying. Knowing there are no other options, Bartlett orders the escape to go ahead. The claustrophobic Danny nearly refuses to go, but is helped along by Willie. Seventy-six prisoners get away, aided by an air-raid blackout. The escape is discovered when Griffith impatiently exits the tunnel in view of a guard.
All 76 POWs flee through various parts of the Third Reich. Danny and Willie steal a rowboat and proceed downstream to a major port, where they board a Swedish merchant ship. Sedgwick steals a bicycle, then rides hidden on a train to France, where the French Resistance get him to Spain. Cavendish hitches a ride in a truck but is delivered to the authorities, discovering many other fellow prisoners recaptured. Hendley and Blythe steal a plane to fly over the Swiss border, but the engine fails, and they crash-land. Blythe is shot by German soldiers. As he dies, he thanks Hendley for getting him out. Hendley is recaptured. Hilts steals a motorcycle at a checkpoint, jumping a series of barbed-wire fences at the German-Swiss border to escape from German soldiers; he lands in the wire of the second fence and is recaptured. While waiting to pass through a Gestapo checkpoint at a railway station, Bartlett is recognized by Kuhn, a Gestapo agent; Ashley-Pitt sacrifices himself by killing Kuhn, and is shot and killed. Bartlett and MacDonald slip away, but MacDonald blunders by replying in English to a suspicious Gestapo officer. MacDonald is quickly apprehended, and Bartlett is recognized and recaptured by Untersturmführer Steinach, an SS agent.
In mid-transport, prisoners in one truck, including Bartlett, MacDonald and Cavendish, are invited to stretch their legs in a field, whereupon they are all shot dead on the pretense that they were trying to escape. Hilts, Hendley and ten others are returned to the camp. In all, 50 men were killed, 23 were caught and only 3 successfully escaped. Von Luger is relieved of command. Hilts goes to the cooler where he optimistically plans another escape, as he has done before.
Casting
Steve McQueen's Virgil Hilts, "The Cooler King", was based on at least three pilots, David M. Jones, John Dortch Lewis,[12] and William Ash.[13][14][15] McQueen has been credited with the most significant performance. Critic Leonard Maltin wrote that "the large, international cast is superb, but the standout is McQueen; it's easy to see why this cemented his status as a superstar".[16] This film established his box-office clout.
Richard Attenborough's Sqn Ldr Roger Bartlett RAF, "Big X", was based on Roger Bushell, the South African-born British POW who was the mastermind of the real Great Escape.[17] This was the film that first brought Attenborough to common notice in the United States. During the Second World War, Attenborough served in the Royal Air Force. He volunteered to fly with the Film Unit and after further training (where he sustained permanent ear damage) he qualified as a sergeant. He flew on several missions over Europe, filming from the rear gunner's position to record the outcome of Bomber Command sorties. (Richard Harris was originally announced for the role.)[18]
Group Captain Ramsey RAF, "the SBO", was based on Group Captain Herbert Massey, a WWI veteran who had volunteered in WWII. He is played by James Donald. Massey walked with a limp, and in the movie Ramsey walks with a cane. Massey had suffered severe wounds to the same leg in both wars. There would be no escape for him, but as Senior British Officer he had to know what was going on. Group Captain Massey was a veteran escaper himself and had been in trouble with the Gestapo. His experience allowed him to offer sound advice to the X-Organisation.[19] Another officer who likely inspired the character of Ramsey was Wing Commander Harry Day.
Flt Lt Colin Blythe RAF, "The Forger", was based on Tim Walenn and played by Donald Pleasence.[20] Pleasence himself had served in the Royal Air Force during World War II. He was shot down and spent a year in German prisoner-of-war camp Stalag Luft I.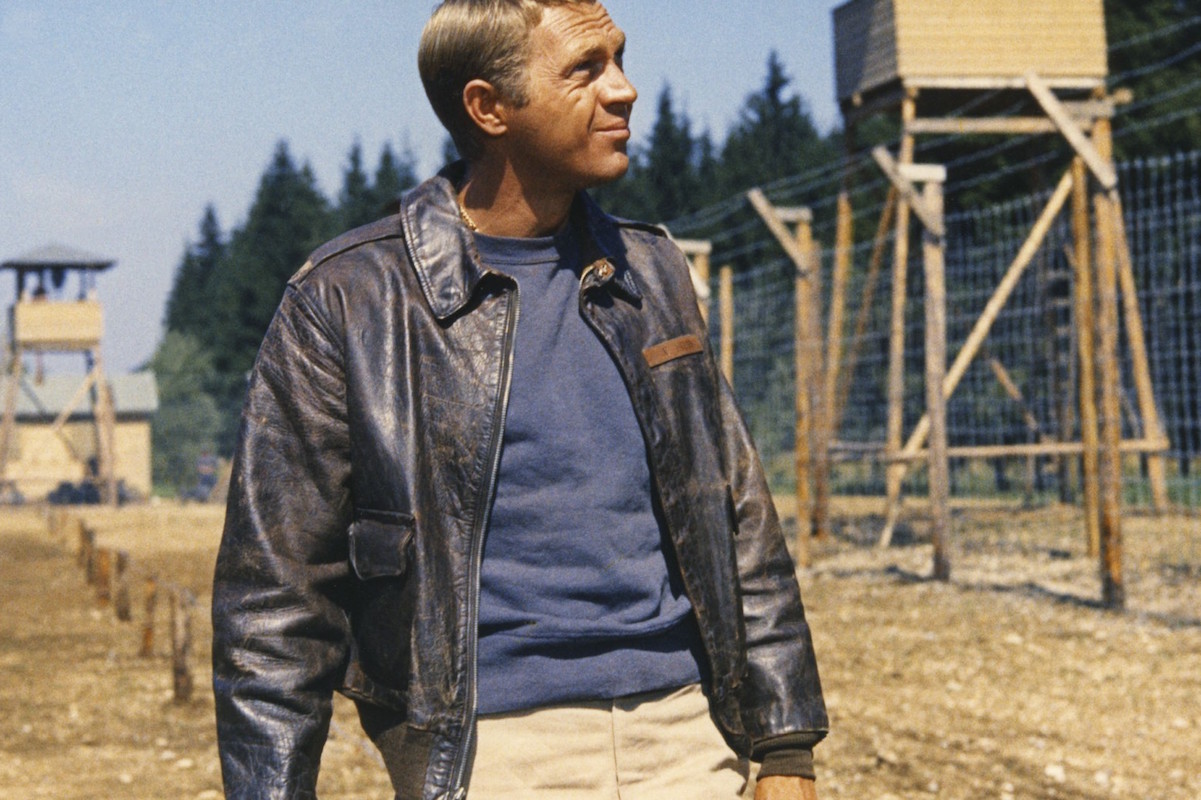 Charles Bronson had been a gunner in the USAAF and had been wounded, but he had not been shot down. Like his character, Danny Valinski, he suffered from claustrophobia because of his childhood work in a mine.
James Garner had been a soldier in the Korean War and was twice wounded. He was a scrounger during that time, as is his character Flt Lt Hendley.[21]
Hannes Messemer's Commandant, "Colonel von Luger", was based on Oberst Friedrich Wilhelm von Lindeiner-Wildau.[22] He had been a POW in Russia during World War II and had escaped by walking hundreds of miles to the German border.[23] He was wounded by Russian fire, but was not captured by the Russians. He surrendered to British forces and then spent two years in a POW facility in London known as the London Cage.
Angus Lennie's Flying Officer Archibald Ives, "The Mole", was based on Jimmy Kiddel, who was shot dead while trying to scale the fence.[24]
The film is accurate in showing that only three escapees made home runs, although the people who made them differed from those in the film. The escape of Danny and Willie in the film is based on two Norwegians who escaped by boat to Sweden, Per Bergsland and Jens Müller. The successful escape of James Coburn's Australian character, Sedgwick (the manufacturer), via Spain was based on Dutchman Bram van der Stok. Coburn, an American, was cast in the role of Royal Australian Air Force (RAAF) Flying Officer Louis Sedgwick who was an amalgamation of Flt Lt Albert Hake, an Australian serving in the RAF, the camp's compass maker, and Johnny Travis, the real manufacturer.
Tilman 'Til Kiwe' Kiver played the German guard "Frick", who discovers the escape. Kiwe had been a German paratrooper officer who was captured and held prisoner at a POW camp in Colorado. He made several escape attempts, dyeing his uniform and carrying forged papers. He was captured in the St. Louis train station during one escape attempt. He won the Knight's Cross before his capture and was the cast member who had actually performed many of the exploits shown in the film.
Release
The Great Escape grossed $11.7 million at the box office,[40] after a budget of $4 million.[41] It became one of the highest-grossing films of 1963, despite heavy competition. In the years since its release, its audience has broadened, cementing its status as a cinema classic.[4] It was entered into the 3rd Moscow International Film Festival, where McQueen won the Silver Prize for Best Actor.[42]
Reception
Critical and public response has mostly been enthusiastic, with a "Certified Fresh" 94% rating on Rotten Tomatoes.[43] In 1963, The New York Times critic Bosley Crowther wrote: "But for much longer than is artful or essential, The Great Escape grinds out its tormenting story without a peek beneath the surface of any man, without a real sense of human involvement. It's a strictly mechanical adventure with make-believe men."[44] British film critic Leslie Halliwell described it as "pretty good but overlong POW adventure with a tragic ending".[45] The Time magazine reviewer wrote in 1963: "The use of colour photography is unnecessary and jarring, but little else is wrong with this film. With accurate casting, a swift screenplay, and authentic German settings, Producer-Director John Sturges has created classic cinema of action. There is no sermonizing, no soul probing, no sex. The Great Escape is simply great escapism".[46]
Modern appraisals
In a 2006 poll in the United Kingdom, regarding the family film that television viewers would most want to see on Christmas Day, The Great Escape came in third, and was first among the choices of male viewers.[47]
In an article for the British Film Institute, "10 great prisoner of war films," updated in August 2018, Samuel Wigley wrote that watching films like The Great Escape and the 1955 British film The Colditz Story, "for all their moments of terror and tragedy, is to delight in captivity in times of war as a wonderful game for boys, an endless Houdini challenge to slip through the enemy's fingers. Often based on true stories of escape, they have the viewer marvelling at the ingenuity and seemingly unbreakable spirit of imprisoned soldiers." He described The Great Escape as "the epitome of the war-is-fun action film," which became "a fixture of family TV viewing..."[48]
(🛒50% OFF🤣)GREAT ESCAPE – CAPT. VIRGIL HILTS
Click the picture to order now👇